Reproductive health in Chad: a fortnight to raise awareness against the "4 TOOs"
This year, the fortnight for the promotion of reproductive, maternal, newborn, child and adolescent health and family planning in Chad is taking place from 26 February to 11 March 2020 in 12 towns: N'Djamena, Moundou, Abéché, Am-Timan, Mao, Massakory, Bol, Yao, Ati, Moussoro, Goré and Doba. The objective of the campaign: promote reproductive health in Chad in order to reduce maternal, newborn and child mortality.
For the third year running, the PASST2 project team has participated in this fortnight by organising awareness-raising sessions and free screening for pregnant women in N'Djaména, Moundou and Abéché, the three towns where the project is being implemented.
Awareness-raising and free screening
Expertise France is involved in this fortnight as a member of the MNCH platform and the organisation committee. It is continuing the work carried out to raise awareness under the PASST2 project, with the organisation of educational talks led by midwives and community health workers. These talks are held for both women who come for consultations and men in the community (including community and religious leaders) on themes related to RH/MNCH.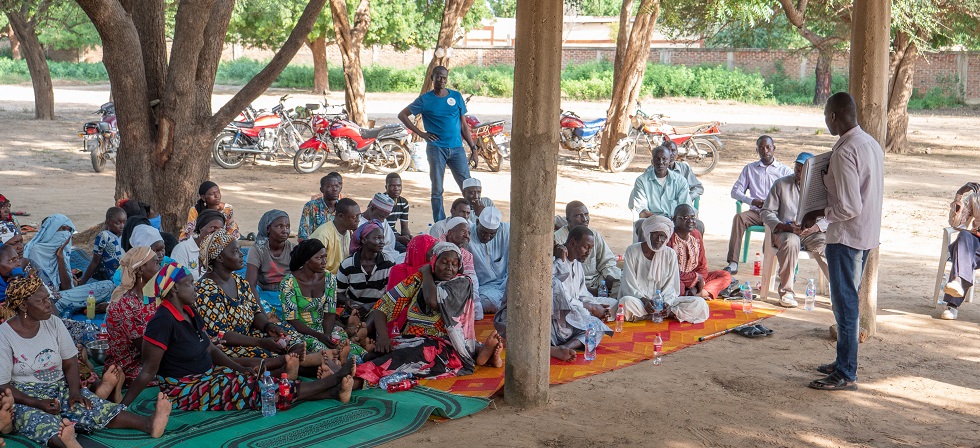 Family planning awareness-raising session led by a community health worker organised at the Toukra-N'Djamena Health Centre/Chad in September 2019
The agency also organised free screening sessions for pregnant women (HIV and hepatitis B) and supported the focused antenatal care (FANC) with supplies and consumables to ensure that the services were available and accessible during this fortnight. This follows the training given to laboratory technicians and doctors on screening and treating hepatitis, which was held in February this year. The facilities supported in the three towns will be provided with doses of hepatitis B paediatric vaccines.
During the 2018 edition, the activities carried out by Expertise France had raised the awareness of 10,000 people and conducted HIV/hepatitis screening tests for just over 2,600 women.
Improving maternal and child health
These activities are part of the PASST 2 project, which is financed by Agence Française de Développement (AFD). Under this project, Expertise France has been mandated by the Chadian Ministry of Public Health for the implementation of a maternal, newborn and child health programme.
In addition to the objective of raising awareness among populations, the agency's operations aim to improve maternal, newborn and child health services in quantity and quality. This involves organising practice-centred training on site for Chadian health workers.
To this end, Expertise France has developed partnerships with French hospitals and associations: the AP-HP Cochin and Lariboisière hospitals, the Quimper, Poitiers and Annecy hospitals, Actions Santé Femmes and the French Movement for Family Planning. During 7 to 10-day missions at regular intervals, the professionals from these structures (gynaecologists-obstetricians, paediatricians, midwives…) assist their Chadian counterparts with care practices in order to build the skills of health workers in a work situation. This operating method is based on trust between health professionals and on peer-to-peer exchanges.
In 2019, twenty-five "buddy" missions were carried out by Expertise France's technical partners in the 3 towns of Ndjamena, Moundou and Abéché. They mobilised 73 professionals and benefited 411 people. Since the project started in 2016, a total of some 890 healthcare providers have benefited from at least one training session on the three sites, over 70% of them are women.
Focusing on peer-to-peer training
"When the project started, we saw that the emergency obstetric and neonatal care (antibiotics, caesarean section, blood transfusions, neonatal resuscitation…) was not always carried out properly", explains Jean-Yves Redon, a gynaecologist-obstetrician and technical expert for PASST2.
"So, to allow emergencies to be treated, we didn't confine ourselves to theoretical reminders: French health professionals worked in immersion in the delivery rooms, where they trained and advised their Chadian counterparts. A real relationship of trust has been built up over the missions and it gives results", he says. Building this "peer-to-peer" trust allows health workers to develop reflexes and good practices to reduce preventable maternal and child morbidity and mortality.

To find out more, consult the PASST2 project sheet