Objective
This project is financed by the European Union and aims to support reforms in the justice sector in Ukraine.
€15.29m

BUDGET

07/12/2017

PROJECT START

36 months

DURATION
PROJECT FUNDED BY
Gaining citizens' confidence in the capacity of State institutions to maintain the rule of law remains a major challenge for the Ukrainian Government, which launched an ambitious reform programme in 2015. Strengthening the rule of law and reducing corruption remain priorities for the authorities in the implementation of their Justice Sector Reform Strategy and Action Plan for 2015-2020. The reforms in this sector go hand in hand with initiatives targeting corruption and the reform of public administration.
Several successes, including amendments to the Constitution and the Law on courts and the status of judges, which came into force in late 2016 and aimed to improve the independence of justice, form a strong basis for the full implementation of the reform of the sector, at central level and regionally.
It is now a question of moving from the development of the legislative framework to the actual implementation of reforms in the justice sector, with a focus on transparency and digitalisation.
Supporting the implementation of reforms in the justice sector

The European Union is consequently supporting the Ukrainian Government with the Pravo-Justice project in order to contribute to improving the effectiveness of judicial institutions (High Council of Justice, Ministry of Justice, General Prosecutor…), in line with European standards and international good practices, to ensure that the justice system in Ukraine is reliable and equitable for all citizens.
Expertise France, to which the European Union has entrusted the implementation of this project under delegated management, will assist the authorities in:
• Improving the management of reforms in the justice sector, by building the capacity of the institutions concerned to strategically plan and budget in the medium term, and building their skills in coordinating, monitoring and evaluating the implementation of reforms in the sector.
• Strengthening the independence, efficiency, quality, integrity and transparency of the judicial system, as well as access to a fair trial.
• Improving the enforcement of civil, criminal and administrative court rulings, by establishing a probation system that contributes to reducing the recidivism rate, increasing the efficiency of judicial officers (public and private), and contributing to the protection of private property.
• Providing the support required for the development and implementation of a dematerialisation and digitalisation strategy in the justice sector, and for the management or establishment of "e-justice" solutions.
The project will be implemented with support from Justice Coopération Internationale (JCI), the Lithuanian Central Project Management Agency (CPMA), the Geneva Centre for the Democratic Control of Armed Forces (DCAF) and CFI.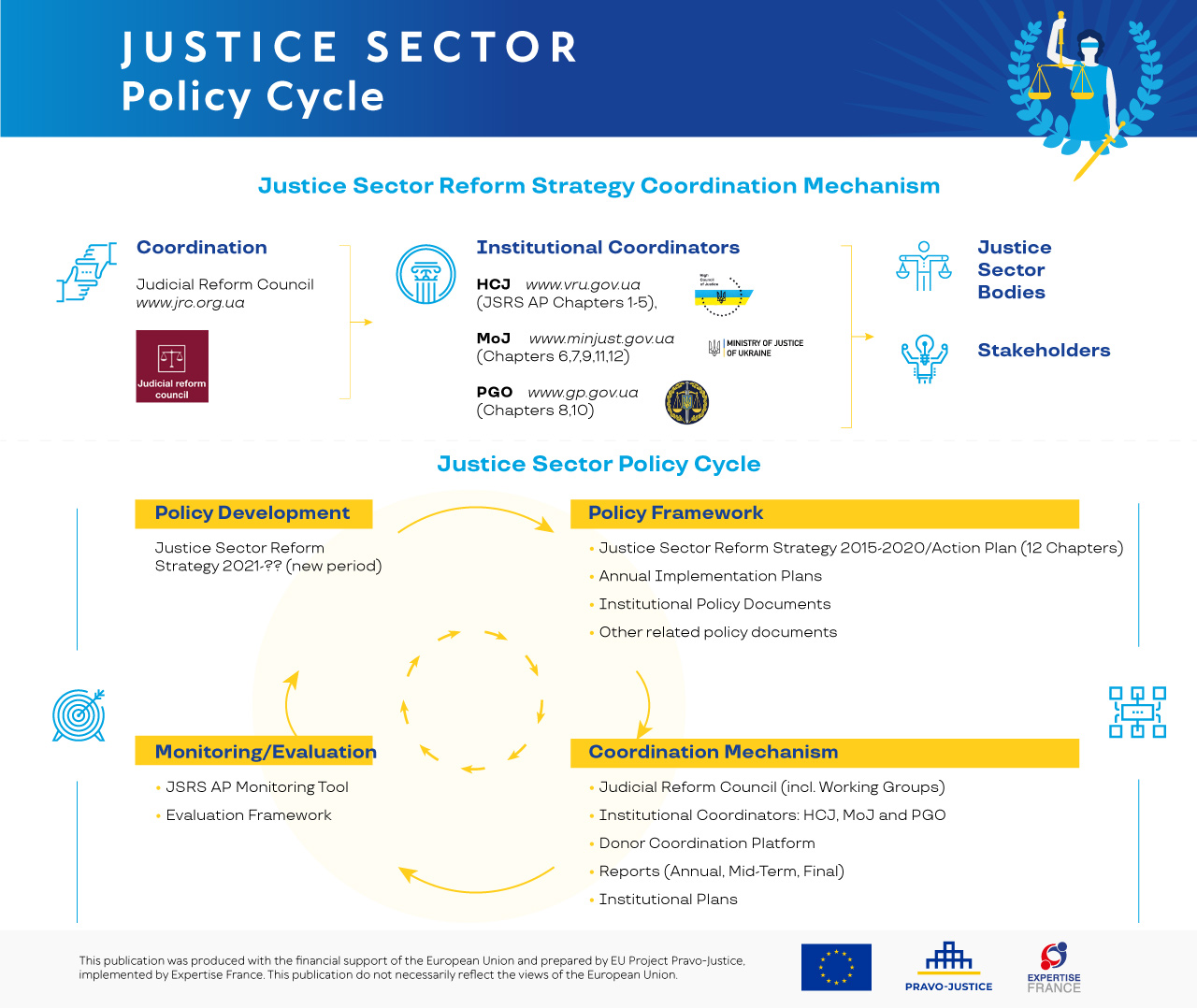 To follow the news about Pravo-Justice, consult the project website

www.pravojustice.eu